Now open for the 2017 season!
Call for mowing, spring clean up, and lawn programs
Dear Homeowner,
With spring almost here, are you tired of planning all of your outside work and never getting it done or using several companies to hande your to-do list? Why not let
Frady's Lawn and Landscape
handle all your outdoor needs?
Weekly mowing and edging services (sign up for weekly mowing and receive 20% off all year at our garden center and a $50 credit towards fall)
Spring clean up
Custom fertilization and weed control applications (sign up for our 6 application estate program and receive FREE flat of summer annuals)
Shrub and small ornamental tree pruning
Re-define bed edges and mulch installation
Weekly bed maintenance
Fall aeration & seeding
Fall clean up, leaf removal, and gutter cleaning
Snow removal
Want to update your landscape or plant new trees? We offer:
Landscape design and installation (visit our nursery and garden center to view shrubs, trees, and flowers)
Bulk mulch and bagged mulch
Bulk top soil and bagged soil
Bulk stone and bagged rock
Flower pots, stepping stones, and sculptures
Thank you,
Wes Frady, Owner
Shawn Flora, G.M.
Make the Most of Your Outdoor Space
For more than 40 years, Frady's Lawn & Landscape has provided Hoosiers with a variety of top-notch landscaping services. From the most beautiful flowers, trees, and bushes to low maintenance landscaping ideas and unique statuary, Frady's offers almost anything you can think of for your lawn and garden needs.

At Frady's, no job is too big or too small to tackle. Regardless of your budget, we want your landscape to be as perfect as possible and help turn your idea of a dream yard into reality.
GARDEN CENTER
Our vast selection of products and garden decor will spruce up any space. We carry bagged and bulk mulch, stone, soil and sand for finishing touches you may need around your yard.
nursery
Add a bit of floral flare to your patio, deck, or outdoor space. We offer a wide variety of plant species to make your outdoor space complete, including annuals, perennials, trees and shrubs.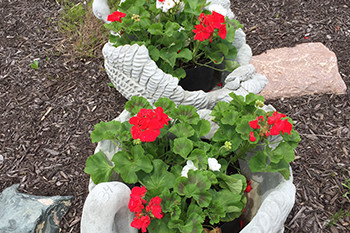 LANDSCAPING
From simple landscaping and garden ideas to more complex landscape architecture, Frady's is up to the task. Design your dream outdoor space and our team will make it a reality.
Testimonials
Our expert staff is ready to answer any question you might have about your outdoor space. Check out what a few of our recent customers had to say about their experience with Frady's:
"Frady's did an awesome job with my landscape design."
– Michele Y.
"This is the place to go for flowers, trees and shrubs… all your landscaping needs. It's one of the best around!"
– Kathie M.

"They have a great selection of plants and a friendly staff!"
– Rachael W.
Hours
Monday 8:00am–6:00pm
Tuesday 8:00am–6:00pm
Wednesday 8:00am–6:00pm
Thursday 8:00am–6:00pm
Friday 8:00am–6:00pm
Saturday 9:00am–5:00pm
Sunday 9:00am–5:00pm